Landing Page Designs
Your landing pages are highly important in your marketing and promotional campaigns. You will increase the impact of these pages by using skilled landing page design services. With custom landing page templates from Servizine, you can increase your sales, improve the efficiency of your leads, and increase your revenue.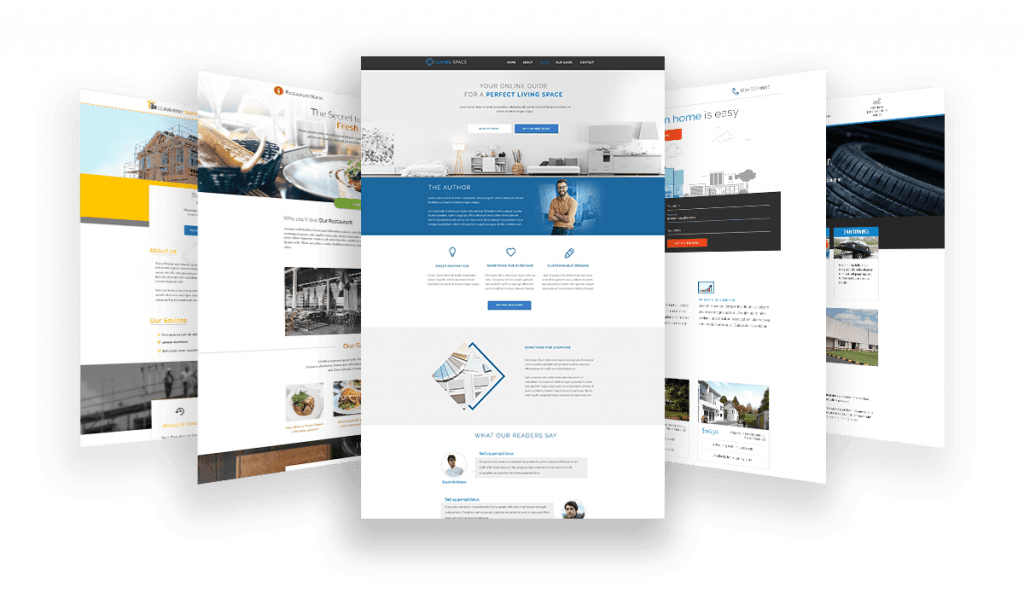 A landing page is a web page created with the intention of turning visitors into leads this is different from other pages in that it fulfills any of the following requirements: It has a form that allows you to gather information from visitors in return for a desirable offer. Your website's landing page design is essentially the first page people see as they arrive at the website. It's a virtual home page for your business, one that will give visitors their first impression of your site and, by extension, of your company.
When a visitor clicks on a link to your website, he/she will be immediately taken to the landing page. As a result, it is important that this website be appealing, safe, and simple to navigate. You want the graphics on this website to stand out in terms of quality and visibility. You want the text and typography to be both visually appealing and easy to read.
Since a landing page is the first area consumers can see when they visit the website, it must be visually appealing. That is a simple task for us. We will use your website as reference for the landing page and design it to be more attractive so that consumers will remain on your website for a longer period of time.
The ultimate goal of every landing page is to ensure that a sale is made. That works for us because we build landing pages with the same end target in mind. Any detail of our projects will be closely considered and optimized to add to the overall sales process.
With our professional landing page designer services, you'll get a flip approach for designing, launching, and improving your website, which contributes to more leads, sales, and revenue for your business.
Convertible landing pages are a critical component of marketing. Servizine digital development team has created a professional, creative page that mixes a beautiful interface with great content placement to entice visitors to contact you.
A dedicated landing page, as opposed to the site's homepage, is meant to demonstrate a particular product or service and entice the user to take a specific action. You can steer their focus without distraction on what you have to say, which enhances lead capture and conversions.
ENCOURAGE CONVERSIONS
Landing pages are designed to guide consumers to a particular action. They use well-known marketing tactics to manipulate action against the desired outcome.
---
CAPTURE LEADS
Since your visitor can insert their contact information to take advantage of your sale, a landing page is an excellent opportunity to catch leads. This knowledge will be particularly helpful in potential campaign activities.
---
IMPROVE YOUR VISIBILITY
The more landing pages you have on your website, the more chances you have of being found in search engines. Conversion rates are also higher on sites with high ranking pages.
---
FOCUSES ATTENTION
A landing page, unlike other sites on your website, will guide your customer's attention to your product or service, eliminating clutter and encouraging them to concentrate on what you have to offer.
---
MESSAGE TESTING
Landing pages are an excellent way to test your messages because they allow you to test several iterations to see which ones perform well.
100% SATISFACTION Guarantee
Be one of our satisfied customer and get the results you've been searching for
When users visit your website, the interface must be customized  based on  what customers are looking for. Servizine's landing page developers will partner with you to build the right approach. We study, evaluate, and even analyze the audiences that comprise your target market, identifying a range of personalities and developing content and designs centered on specific aspects of your business that appeal specifically to their needs.
Professional Landing pages can improve your website's performance and help increase conversions. They are a clever way to keep your web presence clean and reflecting the quality value of your company. We combine form and function such that the sales process happens naturally, guiding consumers through each stage until they reach the eventual decision that the goods and services are the ones they want.